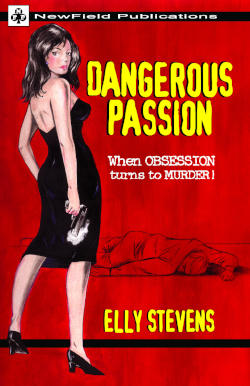 Anyone is capable of murder…
It started with a seemingly innocent goodnight kiss… Innocent, until one person's desire ignited a firestorm of passions leading to a disastrous chain of events for three families. How far do they go to hide their darkest secrets from their loved ones? Intertwined in their lives, a prostitute is murdered, and the police think they have their man. But do they? Will the evidence reveal the real killer? Or will the killer remain at large to kill again?  
Love, lust, jealousy, hatred, revenge, and greed. All part of everyday life. And all motives for murder.  
If you enjoy reading crime noir stories, this is a fast-paced murder mystery you won't want to put down until the very end.
DANGEROUS PASSION is the first Sue Gainer Mystery. See MURDER ON THE ERIE CANAL for a new Sue Gainer story.
Dangerous Passion was full of surprises! I kept thinking what fresh hell is about to unfold in each next chapter. The buildup to the ending kept me guessing. I did not see it coming. That's a good mystery!
Mary Helen Finn

Who done it and who got done in? Those are the questions that you will have to ponder all the way to the end. (There was a surprise at the end that I did not see coming.) Flavorful cast of characters keep this interesting. A short, entertaining mystery.
Judy Caysinger

I just finished reading Dangerous Passion. You are a amazing writer! I couldn't put it down and had to see how it ended.
Carol Sheridan
I read Dangerous Passion in one day! Very well written and a good story!! I had to laugh at some of your names and references (Zucchini Sam and "Why bother."
)
Patricia McGraw
Dangerous Passion is an easy and entertaining read and would be a great book to take to the beach or to curl up with on a snowy afternoon . After reading it I certainly have a greater appreciation for my pretty uncomplicated life and and for my family and friends. Everyone should have a friend like Sue in this novel!
Jeanne Buell
Elly Stevens is a young woman who recently took up the pen to write several frighteningly mysterious novels! This book starts off a bit slow, but as the story goes on...I couldn't put it down!
Cilla C
A real page-turner!
Lucille LoPresti